8 GAME DEV TRENDS YOU WANT TO TRY IN 2018
Talking with a massive number of people in the industry and observing how companies grow, we were able to identify some of the key trends that will shape game development in 2018.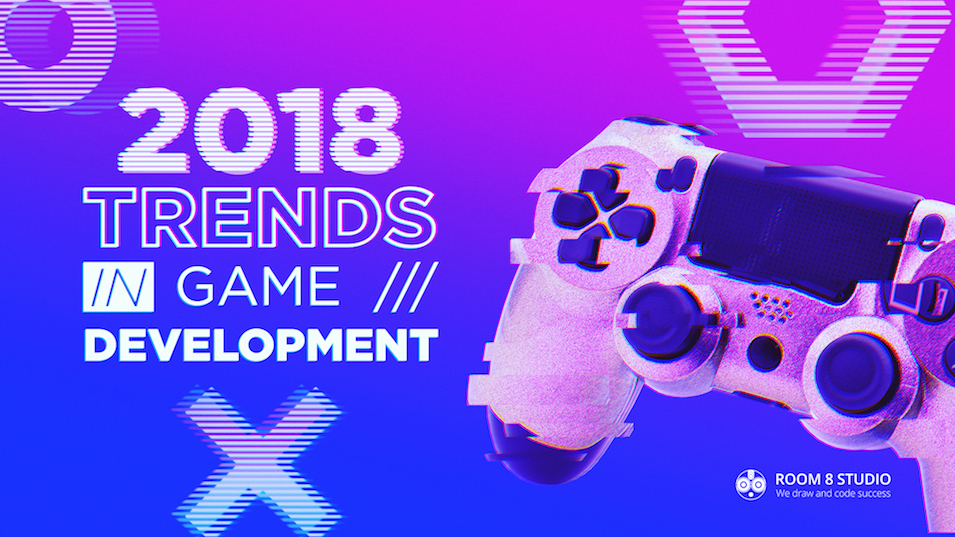 Developing for Nintendo Switch. Nintendo has sold 10 million units in under a year. The Wall Street Journal has reported that console production was set to increase to meet the demand. You can hardly find a studio that is not considering porting their best-performing titles to the console following this impressive number. Just imagine, all these gamers are now hunting for your game!
Dedicated Development Teams (DDT). As more game publishers and developers learn how to integrate external teams into their internal processes efficiently, the number of companies that choose this model over T&M keeps growing. Moreover, studios seek dedicated teams experienced in specific domains (QA, porting, prototyping, art production, etc.). Having experience with both Dedicated and Integrated teams formats, we at Room 8 Studio can say that the last one is even more preferred by those who have their internal processes well-defined.
New approaches to talent management. The overall technical skills of developers have increased significantly over a recent couple of years. But experience shows that skills like problem-solving, critical thinking, emotional intelligence, creativity, etc., are even more valuable for a specific role or project. IT and especially game dev studios tend to focus on soft skills when hiring and benefit from this trend, improving teamwork and facilitating project management.
Mixed mechanics. It hardly seems to be a new trend as one of the first successful mobile games based on mixed mechanics, Puzzle&Dragons by GungHo, was released in 2012. Still, this practice has been heavily underused until now. Currently, more and more developers implement mixed mechanics for more stunning results, with the most recent successful example being Gardenscapes by Playrix.
Prototyping outsourcing. We see progressively more game developers outsourcing quick prototyping and expect this trend to continue in 2018. In our experience, a cross-functional group of 3-4 professionals can develop a prototype in 1-2 months. Naturally, entrepreneurs of the 3rd millennium don't rely on bare fortune when modern technologies make it possible to quickly verify any hypothesis and test any mechanics.
Playable ads. The efficient ad format that beats traditional ways of promotion has been appraised by many but adopted by few. In 2018 those responsible for game promotion will use this tool more often because of its visual addictiveness and practical efficiency. Moreover, developing HTML5-based minigames out of existing assets doesn't take much time and effort and is easily outsourced.
Flatarchy. We at Room 8 Studio minimize vertical structure and implement some other elements of Flatarchy. We observe this trend in different IT companies as well. It brings flexibility to the communication between team members and leads, positively influencing the company's growth. Moreover, Flatarchy presents an agile approach to the organization of the workflow.
Unreal – Unity confrontation. As the never-ending battle between the two rival engines is heating up, the future of game development has never been more enjoyable. But be sure, Room 8 Studio is ready for any outcome!
Walking through these points, let's remember that there is always Room for more 😉