Why Games for Kids Matter and How External Developers Can Help
Many mature games industry professionals who created dozens of well-thought-out and highly ranked games during their careers find themselves knocked out by the need to develop an app for children. Moreover, the same situation can arise in front of innovative start-ups wishing to get a share of the $2.2 billion kids app market. No matter your background, skills, or interests, businesses that want to capture some of that spending, which is a significant chunk of the total $70B mobile-gaming ecosystems, should keep some peculiarities in mind. Read on to find out how to organize the development process for your children's app properly, what factors to consider about a development team and how to choose the suitable engagement model by the example of Papumba Academy – a partnership success story Room 8 Studio is thrilled to share!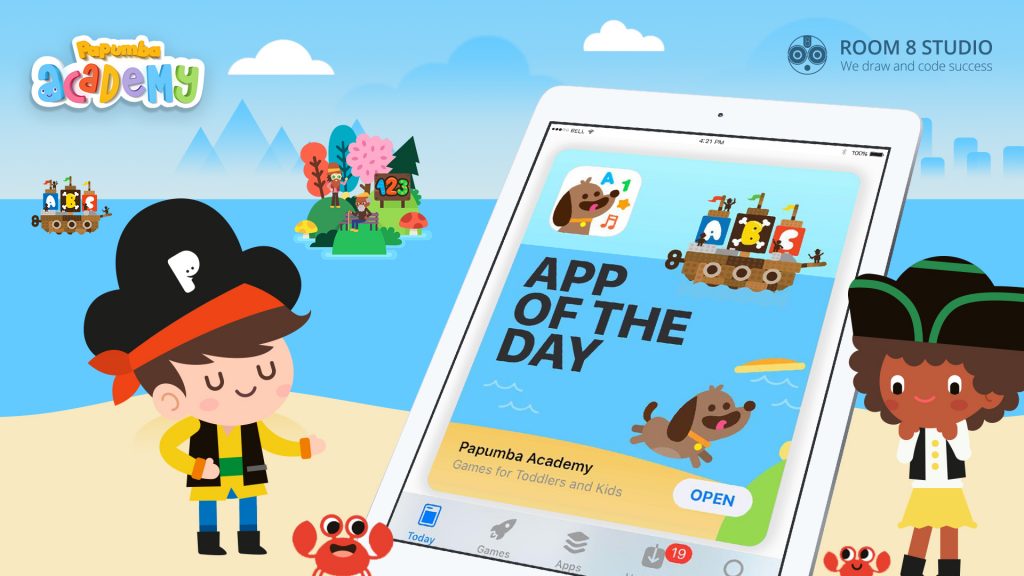 Papumba is a startup from Argentina that created an adaptive learning platform for the most crucial years in brain development, helping preschoolers reach their full potential through play-based activities. The service is a subscription-based mobile app that offers a holistic curriculum and delivers new content and games every month that keeps the child engaged while they learn. And it is available in 18 languages. The team believes that play is the best method for children to learn through colorful and immersive experiences that encourage their imagination. With Papumba Academy, children can practice essential literacy skills like early mathematics, alphabet, logical thinking, music, and drawing. The project started to trail its path to success as a newly invested start-up having a genius vision of education and a need for a reliable external development partner who can strengthen the internal team. Sufficient to say that the created solution now consists of over 15 mini-games with over 8 million downloads and available even in China! It continues releasing new updates, regularly featured on Apple's App Store and Google Play as App of the Day! The app reached a significant result with an average play session of 22-25 minutes among the community members.
Connecting Kids' Apps and External Development
The primary complex task in developing an app for kids lies in combining the pedagogical competence and overall understanding of the children's audience with the technical expertise regarding the game mechanics and its lifecycle as the gaming product. Papumba had already accumulated tremendous experience on how to teach children simple and complex things through the game, but hiring a local team with technical expertise requires a lot of time, effort, and money worthy of better use. It was evident that hiring an external partner working as an extension of their development team was the most efficient solution. The core in-house team could concentrate on the project's vision, R&D, and marketing.
Furthermore, hiring only developers as an external team was just not enough. They needed a well-established team with flawless processes and pipelines, which could also contribute creatively to generate many ideas on improving the app by sharing its deep expertise in game development. Room 8 Studio provided a transparent and smooth production workflow with a highly-skilled Project Manager on board who helped provide all the items executed on time and within the budget.
Consistency in the Workforce and Flexibility
Any software development has cycles with its demands for unique professional engagement. When you have a large structure inside, you do everything with the people sitting there instead of connecting with the best specialists in each feature or product you want to develop. Moreover, recruiting, screening, interviewing, onboarding, training, and bringing internal employees up to speed is also immense.
It is one of the main reasons Papaumba's team prefers to work with external partners. Attributes such as flexibility and the possibility of having the right specific resource for each need comes without saying in such collaboration. Also, this allows working with different teams from different partners simultaneously. Through the dedicated team, Papumba eluded the need to hire individuals in-house and took advantage of consistency in the workforce, "locking" particular talent for the whole project duration. Plus, by fully integrating the dedicated team into their company culture, they could create a commercially successful product.
"We decided to incorporate Room 8 as part of our global collaborators for Development business needs on 2017. The studio was assigned to the creation of our global platform for preschool learning called Papumba Academy, launched in January 2018. Given some cultural singularities, the onboarding process was challenging at the beginning, but they succeeded while being very professional, organized and proactive. Finally, they delivered a good quality work within schedule. I would definitely recommend Room 8 to any Product Owner or Brand Manager to work with them for any mobile business"

Andrés Ballone
Chief Product Officer at Papumba
Team Scalability and Quick Delivery
A dedicated development team – as an engagement model – allows adding more resources temporarily when they are needed and releasing them when they aren't, without any emotional, financial, or practical difficulties. It also means that some tasks can quickly be shifted externally. Thus, Papumba's team released additional resources to the agile development of more exciting content and mostly worked on features that were much more important to the platform and required quicker turnarounds. In addition, the core team in Argentina didn't waste their time getting to the bottom of things with saved expertise, and new external team members quickly passed the onboarding process. Such flexibility turned around as a benefit of scaling the team within weeks. Room 8 Studio provides various services and can take the scope from beginning to end, saving time and management costs, keeping creative consistency through all production levels, and working with the project as a whole rather than controlling specifications quality on individual levels.
The same goes for very time-consuming tasks. Extra volumes of complex content can be completed and released in the app faster by temporarily assigning multiple developers to the same activity. More targeted new features produced in parallel made it easier to meet deadlines and ensure quicker delivery, ultimately resulting in a better and more competitive solution as a final product.
Have a project in mind? Please, write at bizdev@room8studio.com today to explore opportunities and see how we can leverage our industry expertise to create the best possible experience!