Hotel Transylvania: How to Work Successfully with World-Famous Franchises?
Today the far-famed or blockbuster films, TV series, and cartoons can all be translated into the digital space, allowing fans to immerse themselves in their favorite fictional worlds – and making a winning strategy for the intellectual property (IP) holders, game developers, and publishers. Extending an IP is an attractive option, but a review of recent hits and misses shows that it is a must to choose a partner wisely to make the project big and finished on time and within budget.
We warmly welcome you to read about our collaboration with Kung Fu Factory – the developer of Hotel Transylvania: Monsters – a puzzle action game based on the American 3D computer-animated comedy film produced by Sony Pictures Animation – Hotel Transylvania 3: Summer Vacation (known internationally as Hotel Transylvania 3: A Monster Vacation) and theatrically released on July 13, 2018. It is always a unique experience for Room 8 Studio to work with upscale brands joined with many characters and a rich storyline, especially Hollywood ones. And this is the reason why we want to thank all fellows from Kung Fu Factory involved in the project. We take pride in it because your collaboration is a real blessing!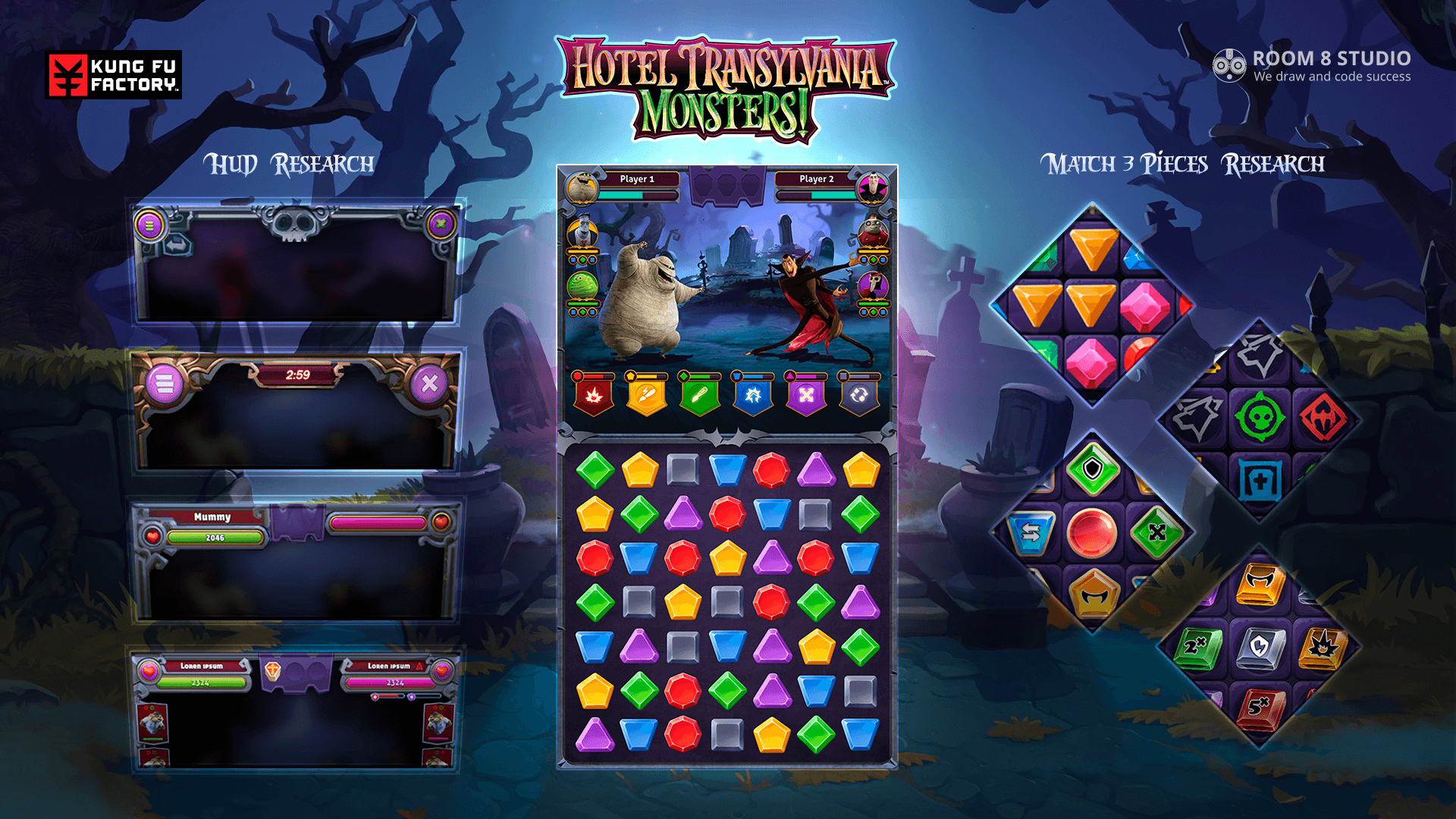 As of August 1, 2018, the movie grossed $126.4 million in the United States and Canada, and $165.9 million in other territories, for a worldwide gross of $292.2 million, against a production budget of $80 million. And we expect that the game will be as successful as the movie is. But for all the advantages of working with such hit brands, there are specific criteria for choosing the right partner to work on your IP to guarantee success.
#1 Complete Integration with the Brand's Specifications
Adding IP to a game is much more than performing a reskin with familiar content. The brand's DNA is a complex and unique phenomenon that has to be researched and applied with love and care. It indicates that artwork and UX matter remarkably for all stakeholders and fans.
It is why the engagement of an Art Director (or a strong Lead Artist) and mid-to-senior/senior-level specialists is vital for any IP-related project. The Art Director studies all materials, guides, and specs precisely. He leads the whole project by reviewing all the artwork, giving feedback, and making internal reviews of every asset before the PM submits anything for the external review. Room 8 experience proves that having this practice ensures the quality bar is high with only the best fitting artists assigned to the project and guarantees the consistency of the deliveries to avoid too many feedback/iterations.
Again, it is essential to find a partner, like Room 8, who will integrate into the brand's essence and contribute creatively to support the project at various stages of the production cycle. Thanks to working on games based on such franchises as Hotel Transylvania, Family Guy, Independence Day, Walking Dead, Kubo, and the Two Strings, Power Rangers, and Monopoly, our team gained priceless experience.
#2 Flawless Pipeline with a Seamless Feedback
Game development on mobile tied to outside product launches such as movies or cartoons always comes with many partners' interests and interactions. One of the most common and typical mistakes is giving the whole big project to the external studio without feedback. Keeping in mind that the ideal solution is an interactive forum, we aim to engage our partners by providing the opportunity to see the assets in the development process. The key to building long-term relationships is in communication and regular feedback.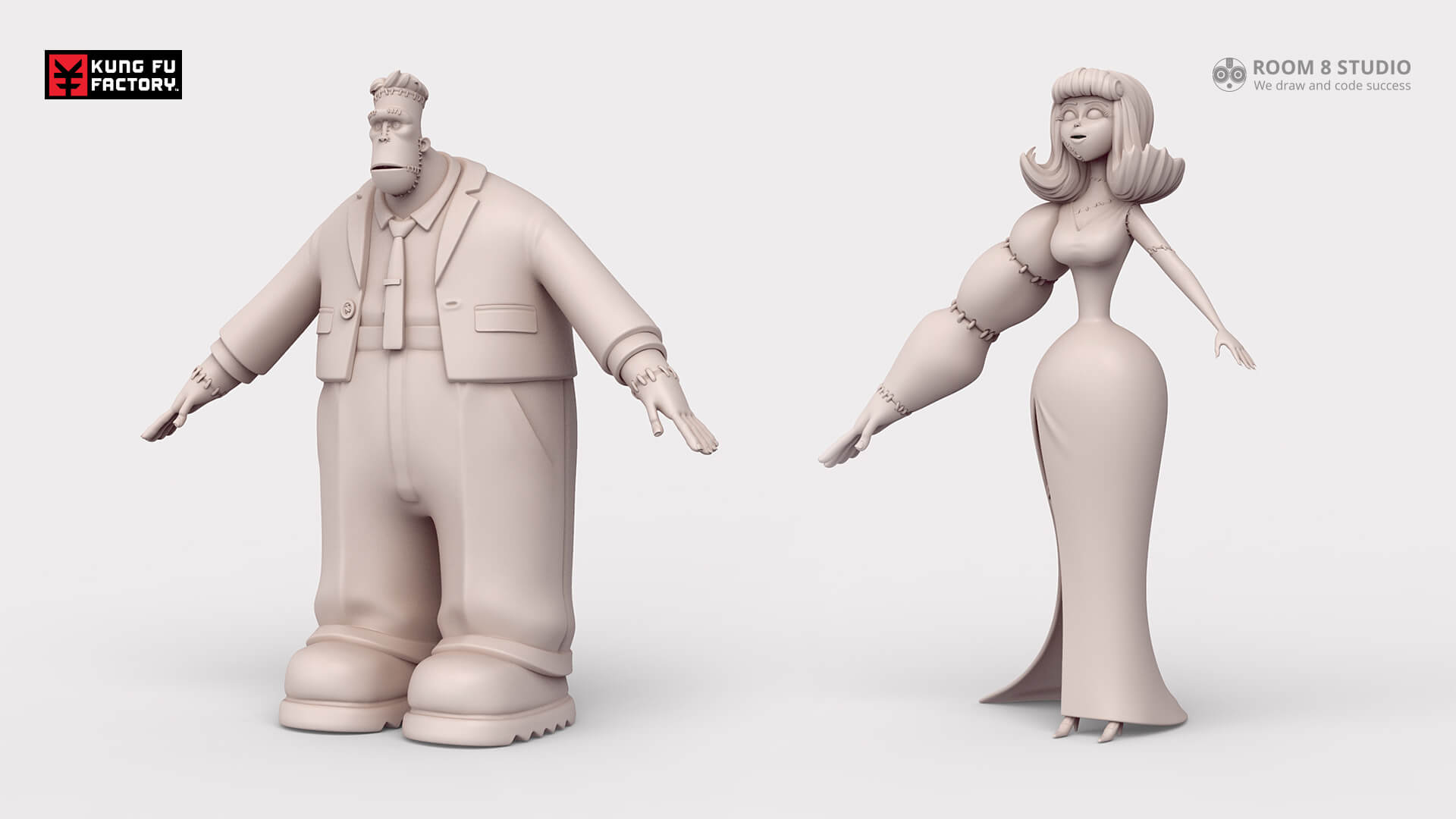 Splitting the project into agile milestones and setting a seamless productions pipeline with clear roles, frequent feedback/checkpoints, and transparent processes will vanish the need for redoing and benefit the results. We always provide at least one highly qualified Project Manager assigned to monitor the progress and communicate directly with the internal art manager at least weekly. But it's essential to keep in mind that it's a two-sided deal; the mere existence of a communication funnel doesn't guarantee mutually beneficial achievement; the adherence to and use of the system by all parties involved do.
Have a game in mind? Contact our business development team today to see how we can leverage our experience to create the game of your dreams! Room 8 Studio is always here to support and catapult our partners' games to the top of the charts!