TOP REASONS TO HIRE AN EXTERNAL DEVELOPMENT TEAM FOR YOUR GAME
The last few years have seen an ever-growing demand within the games industry. The global games market reached $121.7 billion in 2017, and according to forecasts, this number will exceed $150 billion in 2019. On the other hand, such demands outpace most game developers' and publishers' growth capacity, and many quickly hit a limit to further growth. Some face a shortage of talents or a lack of particular tech skill sets in their operational areas. Some want to shorten a starting cycle, in contrast to an in-house team. Some want to focus on core strategies and services, handling the development work off to an external contractor, etc. The question behind these reasons is how to keep external development cost and time effective?
We at Room 8 Studio are creating a positive business culture of sharing insights on external development for the video game industry leaders. Today we are interviewing our partner from Playtika. Rony Wolfinzon, Product Team Lead and Operations Manager, will share our interaction story and experience.
Describe your total experience of partnership with Room 8 Studio, please. What was the model: T&M, dedicated development team, or fixed price? And why did you decide to move forward with the chosen one?
We engaged the external development team for Caesars Slots – one of Playtika's most popular casino games, placed in the Facebook Games Hall of Fame with over 5M followers. We consider Room 8 Studio more as an integrated partner with competent project management and trusted operating processes than mercenary cut outsourcers who do their work-for-hire on a man/month payment model. First of all, I'm personally not a fan of those terms because the team was highly professional and engaged. I believe it is a cause of the studio's culture and values that Room 8 Studio has. By far, this is the best project I was engaged with.
How much time does it require to build a highly professional external team, including onboarding?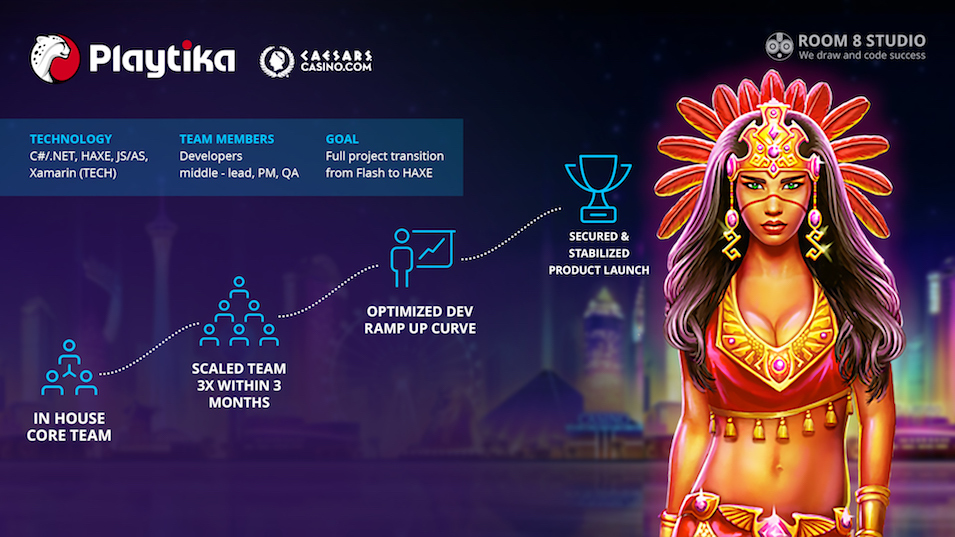 I would say co-development team. The mindset deeply affects how Playtika defines its relationship with external companies not to create problems for both parties. Our experience shows that this approach best supports modern game development's complex and collaborative nature. We escaped from all hiring and retention stress. It took minor efforts from our end to set up a team – Room 8 Studio just minimized all the risks and provided transparent communication for the secured and stabilized product launch. The core team of three people started the project immediately after the short estimation process and grew up to 30 in a month, delivering a cyclical workload with strict deadlines. It showed us that the company has well established hiring pipeline and can recruit all staff for successful and on-time product releases. We reached the target production speed in three months and soft-launched in eight months, moving to live ops.
What kind of difficulties have you faced during the process? How did you address them?
Given the strategic nature of the process, hiring an external development team for games isn't something you wander into; it needs to be planned, implemented, and executed at the highest levels of management. The external team must feel a part of what they are doing. Else they won't have the required commitment. Integration with the Playtika brand is a challenge for any company. Room 8 Studio fellows showed a robust leadership approach to resolving this issue. The team took responsibility for all the creative tasks and co-develop independently, having all kinds of professionals involved, leaving us with guidance and key decision making. Of course, it took some time initially, but the team made the transition smooth.
What are the key roles of the dedicated development team cooperation model? How are these distributed between the vendor and the client?
It depends on how the external team manages eventual risks, saving time and costs for the client. We take it for granted that we evolve with our external partner, so we first investigate the developer's reliability and stability. We also look for a contractor that lets us assemble a dream team with a strong Development Lead, highly proactive Project Management, and Quality Assurance Lead on board. All in one is a crucial part of building successful interactions. If they can add the option to extend and scale the external team to fit the changing project requirements – such a partnership makes the difference in increasing output while reducing costs and time-to-market.
How important is personal contact while managing external teams?
Tightening the communication loop with your developer is vital to receiving the final product you want. We set up weekly calls to check-in and ensure development is sticking to scope and schedule. We go over essential areas of the game specification to ensure the dev team doesn't interpret them differently. It is also a great time to review art, prototypes, and builds and discuss the next steps. We always ask Development Leads to come and visit our offices. And vice versa, we are heading to studio facilities for team-building activities, cultural exchange, broader feedback, and out-of-office fun.
Playtika cooperates with Room 8 Studio in an external development team format on porting, art integration, and QA. Do you consider trying dedicated teams for R&D, UA videos, and playable ads on top?
Not at the moment. But Room 8 Studio has been around for years, serving clients worldwide for a reason. Their clients are getting good value, keep coming back, and are always open to new ways of engagement.
Have a game in mind? Contact our business development team today to see how we can leverage our experience to create the game of your dreams!