The Basics of 3D Character Development for Video Games
The role of characters in video games is difficult to overestimate. A perfectly designed environment and a well-thought game design are essential for any game. But the look and feel of the characters and their behavior play a considerable role in the game's reception by players. In some genres, the protagonist even defines the general direction of the plot in which the game develops and sets the game's pace.
The creation of 3D characters is a specific area within game art that requires many different areas of expertise. In this article, we'd like to share our ideas on creating unique game characters that players will remember long after they finish the game.
What's most important when you make 3D character models
3D character production is based on three pillars: skilled artists with complementary expertise, communication, and tools.
Skilled artists are the most valuable asset of any studio. Expertise determines a lot — from the quality of execution and ability to synchronize with the project DNA or IP's history to the power of creating something truly outstanding. At Room 8 Studio, we work in different styles, from realistic, semi-realistic, and stylized to cartoony. We have a big team of 3D character artists with diverse expertise and complementary skill-sets, whose creative decisions are backed by more than 500 3D characters, skins, and outfits created in Room 8 Studio.
3D character development requires smooth communication between teams: from concept artists to 3D modelers and animators, all teams should be aligned to deliver outstanding results. We also strongly believe that the highest project management standards are at the core of any work.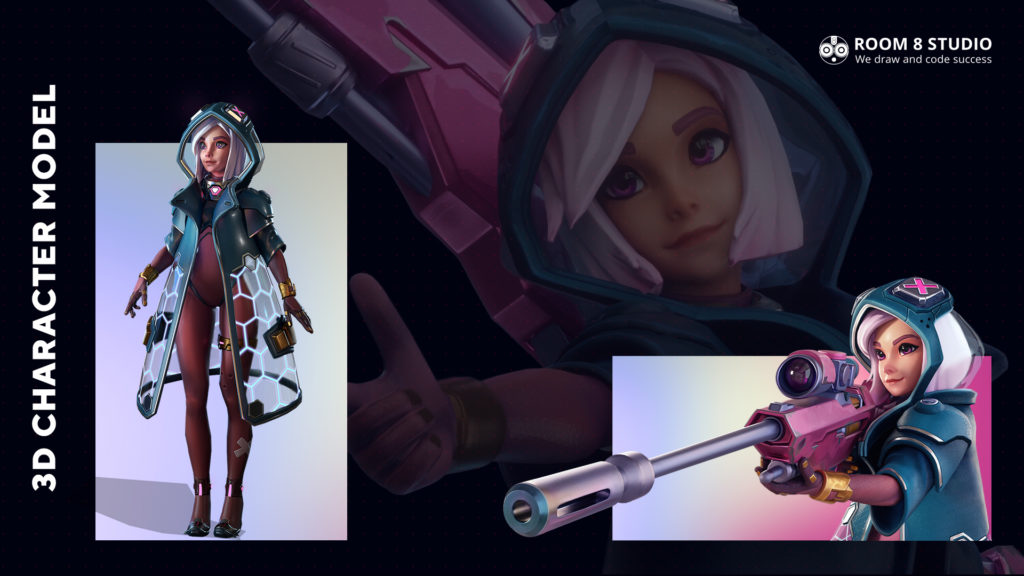 Concerning artistic tools, we use most of them: Maya, 3ds Max, ZBrush, Substance Painter, Substance Designer, Marvelous Designer, Photoshop, and Fusion 360. Also, you often have to work directly with engines, like Unity, Unreal, Lumberyard, or others.
Step-by-step 3D character development
Character concept design
Character concept art is the design of an entire concept and style of a character from scratch. To build a character design concept, an artist needs to embody the idea that captures the essence of a character's personality, including their appearance, distinctive traits, background, behavior, habits, and many more.
Designing character concept art starts with seeking the sources for character inspiration, idea generation, research, and character drafting. To develop a character concept, an artist usually begins by preparing a mood board, then creates several sketches which include the silhouette and main facial and body features of a future character for the client to choose from. Once the character has a design, the artist continues working on the colors and making all the rest of the concept.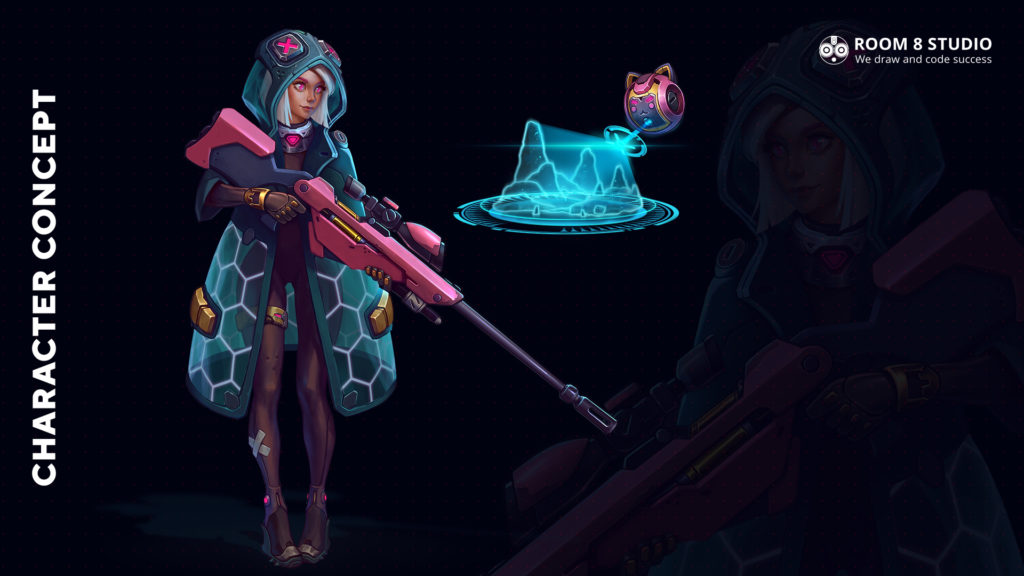 At this stage, an artist also thinks over the groundwork for the next steps, such as different angles and movement sheets to help the animator capture the character's theme and personality. After that, the character gets modeled in 3D, rigged, and animated.
Modeling
Blocking
At this step, we block out the body's basic shape and face of a future 3D character model, its skeleton, and muscle frame. An artist must have at least a basic knowledge of human anatomy. Understanding overall harmony and proportion is essential for both realistic and stylized characters. Even the hypertrophied forms of stylized characters need all body parts to look good together and create the desired overall impression.
Sculpting
Sculpting is a technique by which an artist creates a 3D character with digital material similar to natural clay. This stage is vital in making realistic, hyperrealistic, and stylized 3D characters. It's also the most exciting and fun stage in the whole process of character creation. Sculpting allows the artist to reach incredible levels of character detail by inserting details into meshes that would otherwise have been difficult or impossible to create using traditional 3D modeling techniques. ZBrush is our favorite software for sculpting among all known.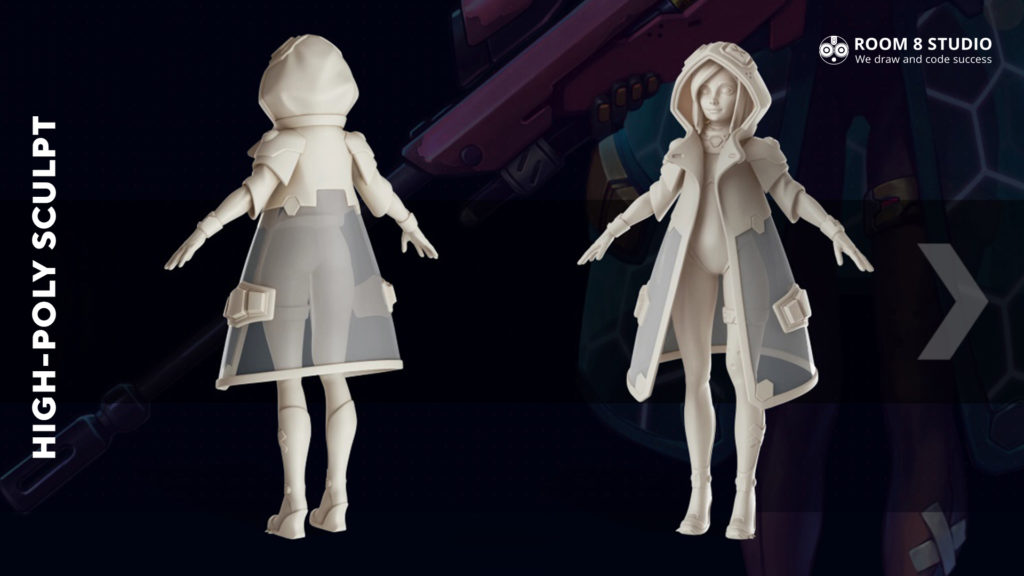 Retopology
The proper 3D model needs good retopology — the polygons should be organized and aligned correctly and logically to ensure the future animation performs well. Retopology also aims to convert a High Poly model into a model with an optimal count of polygons; in other words, it's a decrease of polygons in a model.
Unwrapping and baking
Once we have all the previous steps completed, we'll need to UV unwrap and bake a character model. We highly recommend using Marmoset Toolbag for baking because it's the fastest possible way. Sometimes artists need to manage the process of baking a model that consists of 30 or even 50 different materials. Alternative tools, for example, Maya, are also great but require much more time.
Texturing
Texturing is an exciting and creative process. At this stage, 3D artists apply color and surface attributes to the character model. The general objective is to make a 3D character model that matches its concept or real-world prototype in each detail, like hair color, some imperfections like scars on a face or body, clothes, and other unique attributes. The overall correct display of a character and micro-details like the model's interaction with light is key to believability and appeal. The player's mind can reject the wrong material of clothes or surface properties as non-realistic.
To get an impressive character that could fit a AAA project, we approach the process of texturing with the max attentiveness and consistency, using lots of different tools from ZBrush and Photoshop to Substance Painter.
Rigging
Rigging the model means creating a skeletal structure that helps with model animation, so the model follows the structure of the skeleton. Some automatic ways of rigging are presented as features in several game engines like Unity and Unreal Engine. But manual rigging is an important step in a game character modeling for proper animation.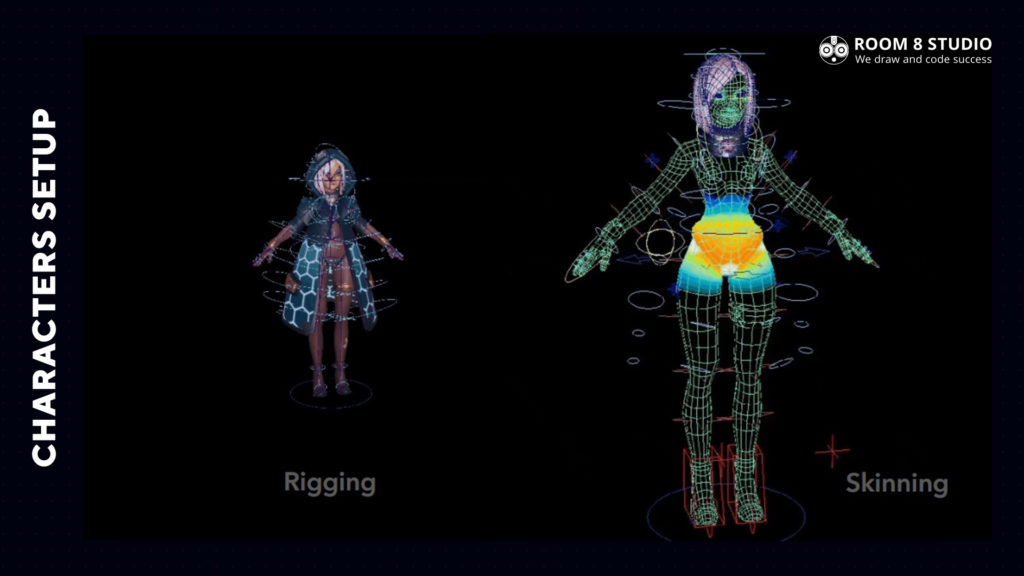 Rigging can never be fully automated if you want to achieve great results. Some tools with their algorithms can be a great base, but the involvement of an experienced artist in this process is crucial.
Animation
The animation is the final step in the character creation pipeline. Here the 3D character model comes to life — gets facial expressions and body movements. Each movement should reflect the character's personality, be natural and realistic, and evoke certain emotions in the player, be it joy and laughter or, for example, compassion. All this can be achieved by high-quality character animation.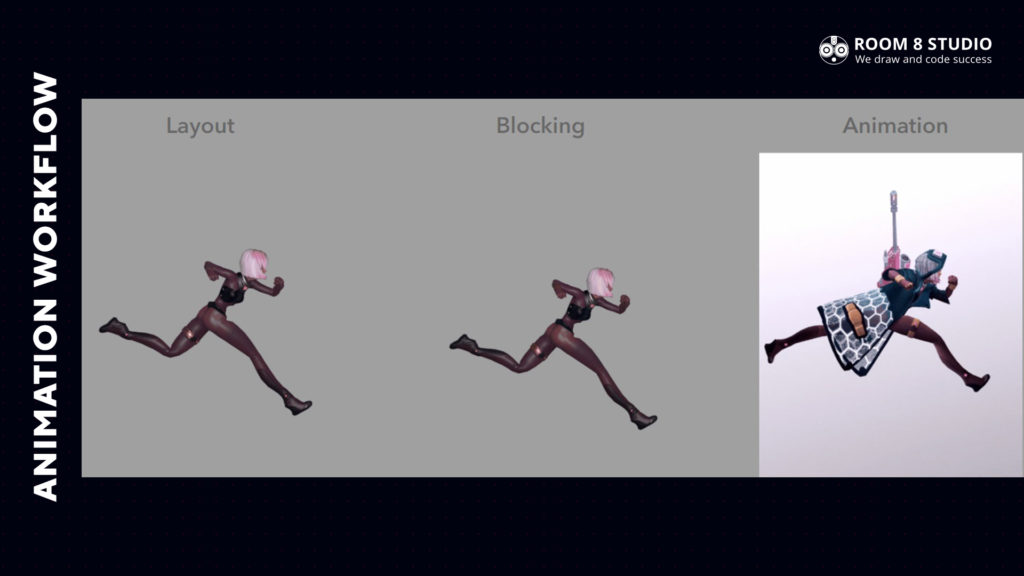 As was mentioned above, the foundation for future animation is laid on the rigging stage, when the character gets a bone structure that defines the possible range of movements. To create the correct script and set the needed parameters of motion in a program, a 3D animator must be familiar with the principles of human motion, bipedal creatures, animals, facial expressions in different moods, and finally, be good in physics. Very often, after the motion capture data is imported, the 3D animator has to fix up the keyframes to achieve perfection in the character's facial expression or body mechanics.
Conclusion
Game character development requires a lot of expertise and skills that have been polished with years of work in different styles. An experienced artist can make your game character not just well-designed but memorable and captivating.
Whether you want to bring to life a new promising title or support massive AAA production — Room 8 Studio can help you with outstanding characters for your game, starting with art direction and concept design to final 3D models and animation.
Some of our recent projects: Fall Guys: Ultimate Knockout, Power Rangers: Legacy War, 3D Characters for Amazon Game Studios
More on the topic:
Have a project in mind? Let's talk!